Absolute Precision Plumbing, Heating, & Air Conditioning is the plumber Peabody MA calls on at a moment's notice. We offer fast, reliable emergency service our customers can count on when they need it. Weekends, nights, holidays, you can count on us to be there. Plumbing emergencies are bad enough whenever they happen – let alone if they happen in the middle of the night, or on the eve of a holiday party. Don't be stuck without a plumber you can trust, or worse, having to wait hours for a plumber just to show up. We have the experience you're looking for in a plumber, and the tools needed to get the job done quickly.
Choose the Top Plumber in Peabody, MA
Your neighbors in and around Peabody MA choose us as their go-to plumber based on our customers' positive ratings and our professionalism. Read for yourself a recent review from a customer.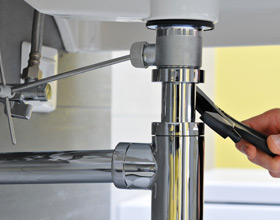 "We contracted Ken Roberts and his associates at Absolute Precision Plumbing to convert our oil furnace to a high-efficiency gas furnace, and to install a gas line and new gas range. We chose Absolute Precision based not only on the positive ratings on Angie's List, but because of the professionalism and responsiveness shown during the estimate process, as well as the thoroughness of the estimate."
Contact the Preferred Plumbing Company
To contact us as your plumber Peabody MA area residents can call (855) 758-6200, or use our online form and someone will contact you shortly.